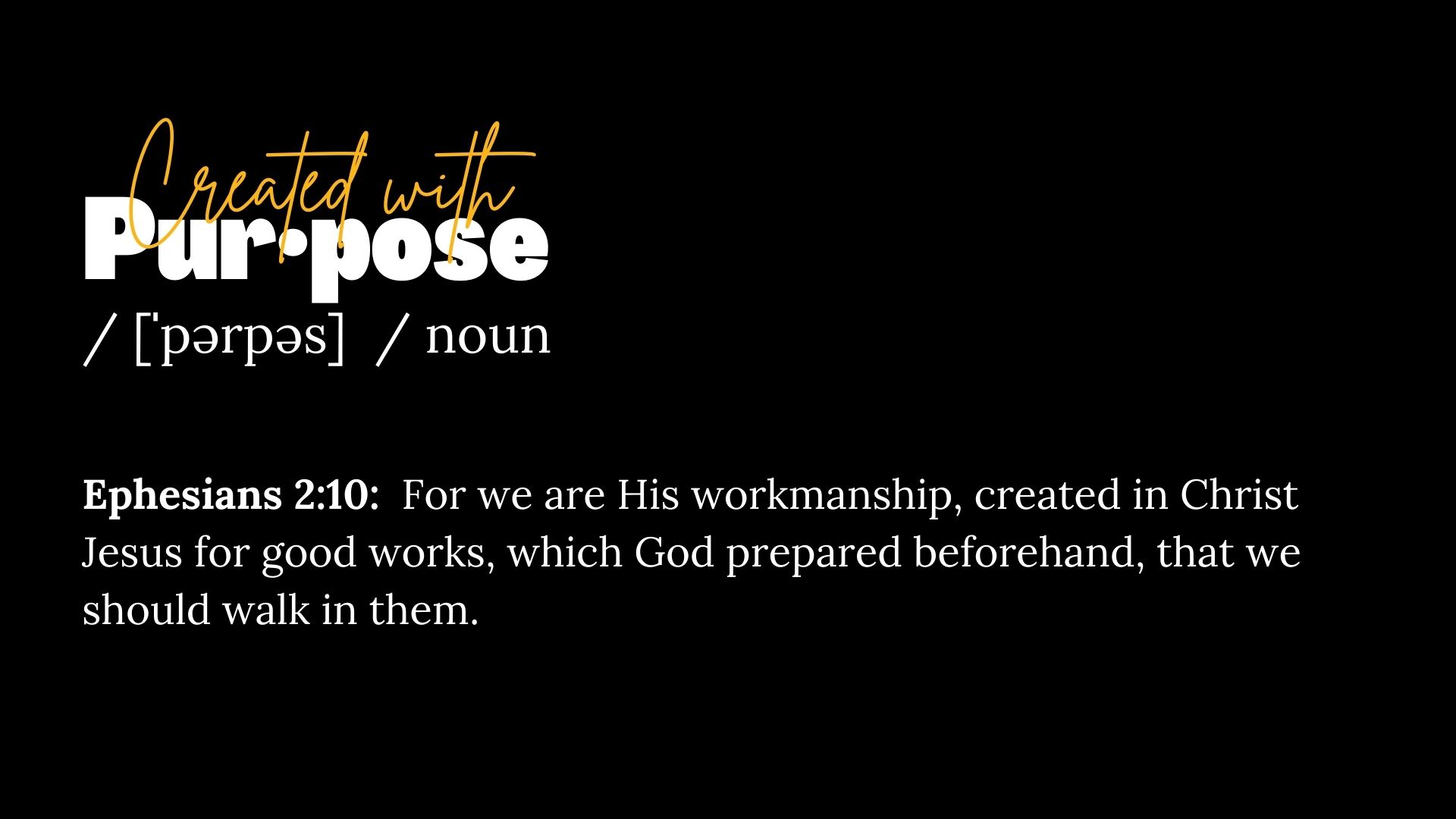 Long ago, before the creation of the world, a loving God devised an individual purpose for the life of each human being that He would create in His image (Genesis 1:26; Psalm 139; Ephesians 2:10). This year, our focus is that purpose. We want our students to understand that they were created on purpose, with purpose, for a purpose. In order to understand their unique blueprint, they must first get to know the One who created them and planned out each day for them, and this is our mission – to magnify Jesus to them in every class and every subject. We want them to see Him and be in awe of Him because of Who He is. We have chosen to make the book of Ephesians our focus as we unpack the idea that "…we are His workmanship, created in Christ Jesus for good works, which God prepared beforehand, that we should walk in them" (Ephesians 2:10). Our prayer this year is that many will come to know Him and learn to magnify Him so that others may see Jesus clearly in their lives, too, as they discover our ultimate purpose as image-bearers: to glorify God and enjoy Him forever.
Bethany Fleming
HS English Teacher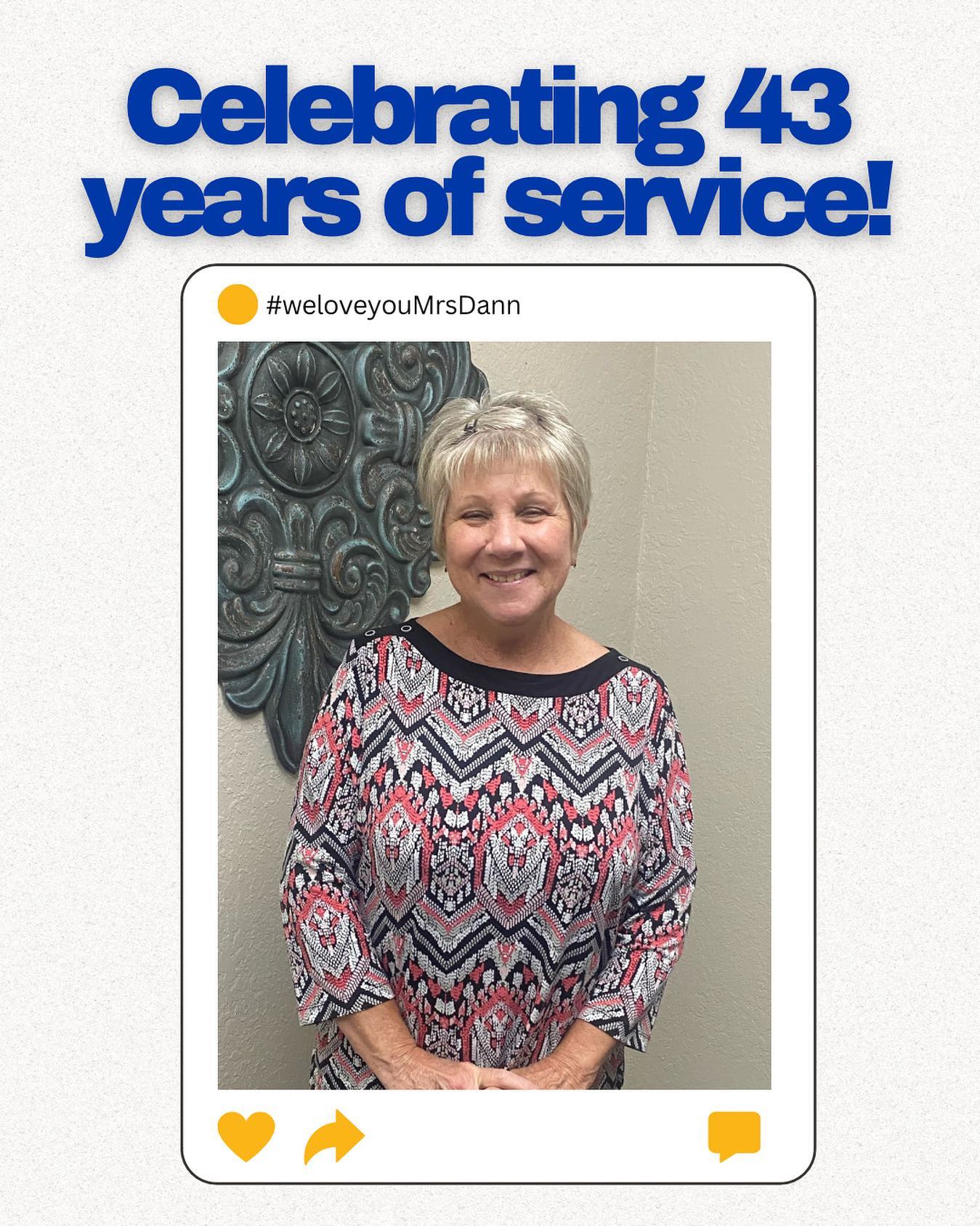 What can we say about Mrs. Dann and her 43 incredible years of loyal service to OCP's students and families?! From her first position in our after-school program to the completion of her career in our finance department, as well as many other jobs and positions in between, she has been a valuable asset and a loyal part of the OCP staff.
She will be greatly missed in the OCP office!
We are celebrating the much-deserved rest and enjoyment that retirement will bring. We have loved every minute of her many years serving at OCP, and we are so thankful for all she has done.
Comments and well wishes can be left on the OCP Facebook page.
Meet the Class of 2023, from our principal, Mrs. Jennie Jacobson…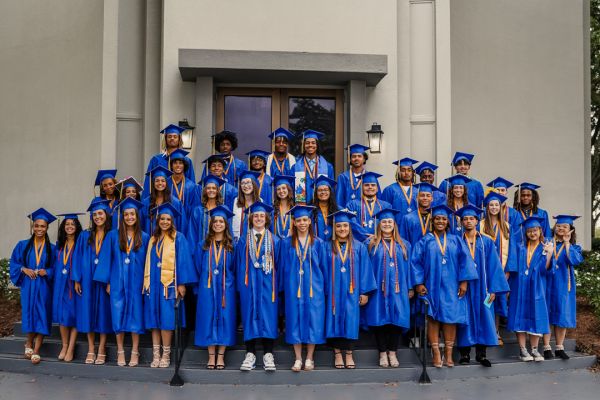 I am thrilled to announce that over 98% percent of these seniors will move on to pursue higher education. Our 38 seniors have collectively been accepted by more than 150 colleges and universities. Additionally, this class has collectively been awarded over 6 million dollars in academic and athletic scholarships! That's more than any senior class to date!
Our students will be represented in a diverse collection of secondary institutions ranging from Florida institutions such as Seminole State, FAMU, Southeastern, and St. Leo, to out-of-state institutions such as Mars Hill, Rutgers, Valparaiso, and Kentucky State, just to name a few. It is quite an exciting journey they are about to embark on.
Each OCP student is required to complete at least 100 hours of community service. This particular group of seniors far exceeded this requirement. They gave back to their community by serving in a wide variety of community organizations such as "Give Kids the World", Dover Shores Community Center, CFCArts, Englewood Neighborhood Center, local church camps and Vacation Bible Schools, Advent Health, and after-school sports programs totaling over 11,400 community service hours! That's three times the required amount!
Additionally, 24 of our seniors participated in dual enrollment and AP courses and have collectively earned over 100 college credit hours.
Now that we've looked at some of their collective achievements, I'd like to honor some individuals for their outstanding accomplishments.
Four of our seniors are graduating Cum Laude, 3.5-3.6 GPA:
Ariana Cintron, Dejoy Rosso, Angelique Owusu-Kyei and Sebastian Santiestiban.
Five of our seniors are graduating Magna Cum Laude, 3.7-3.8 GPA:
Siarah Brown, Sean Combs, Lynn Whalen, Kaelly Balladin and Vy Le.
And 16 are graduating Suma Cum Laude, 3.9 and above!:
Leila Chafqane, Grace Thomas, Bradley Knight, Robbie Cordes, Mae Cunningham, Elijah Lopez, Sara Jacobson, Genesis Iglesias, Lydia Mascari, Katheryn Paradas, Isaiah Sutherland, Aalyssa Gunn, Jarilyn Garcia, Jayden Nola-Alberty, Cooper Cadorette and Brian Thomas.
Three of our seniors have earned the very prestigious Bright Futures Scholarship. There are two tiers of this scholarship - the Florida Medallion Scholarship and the Florida Academic Scholarship.
To earn the Florida Medallion Scholarship, a student must have a GPA of at least 3.0, complete 75 community service hours, and an ACT of at least 25 OR an SAT of at least 1210. This scholarship covers 75% of in-state public institution tuition.
Congratulations to Grace Thomas and Lynn Whalen for receiving the Florida Medallion Scholarship.
To earn the Florida Academic Scholarship, a student must have a GPA of at least 3.5, 100 community service hours, an ACT of at least 30 OR an SAT of 1330. This scholarship covers 100% of in-state public institution tuition. Congratulations to Mae Cunningham for receiving the Florida Academic Scholarship.
Class of 2023, your accomplishments are astounding and we could not be more proud of each of you!
Matilda earns rave reviews among students and patrons.
On April 28, 2023, OCP had the elementary matinee for the school play Matilda. It was during school hours, and all of the elementary school students watched the play in the large auditorium. They all worked very hard on the play practicing long hours after school to prepare an amazing performance of the play Matilda.
Matilda is a play about a girl named Matilda Wormwood who comes from a family that does not share her love for books and learning and often treats her badly. She teaches herself how to read and ends up becoming highly intelligent and develops the power to levitate objects. Senior Mae Cunningham, who played Mrs. Trunchbull, said "As a senior, I have had so much fun. I think when you have nothing to lose, you perform to the best of your abilities because you don't care what anyone thinks of you. All that matters is acting your best, no matter how…embarrassing," when asked to sum up her experience as a senior in the school play.

Students helped backstage and with lighting to help the play run smoothly. Senior Sarah Jacobson, assistant director, stage manager, and light manager for Matilda said "Last week I called my final show as a high school stage manager. From freshman year when I (very badly) was the stage manager for Snow White to closing the monster of a show that is Matilda, it was a time I will cherish forever. I have had the pleasure to work with two different amazing theater directors and many different casts and crews that have all been equally amazing" when asked to sum up her experience with being the stage manager.

The cast and backstage crew of Matilda did an amazing job during the production under Director Seth Niquette. We cannot wait to see what's next for OCP's next production. It was a great production to end the year off on.

Orlando Christian Prep Senior Nassir Little has been selected to the McDonald's All American Game.
One of the highest achievements in high school basketball, the McDonald's All American Games are the only democratically selected prep all-star event in the country. The nation's top high school basketball coaches and media comprise the selection committee responsible for selecting the boys and girls rosters from a pool of more than 700 nominated high school seniors.
This year marks the 41st annual McDonald's All American® Boys Game and the 17th annual Girls Game. The 2018 McDonald's All American Games will be held Wednesday, March 28, 2018 at the Philips Arena in Atlanta, Georgia. Both the Boys and Girls Game will air on ESPN networks.
Today the entire student body had the pleasure to celebrate with Nassir as he was officially presented with his jersey for the upcoming game. To see Nassir play live follow @ocphoops and @ocpathletics to keep up with the season schedule.
For more information about the McDonald's game https://www.mcdonaldsallamerican.com/aag/en-us.html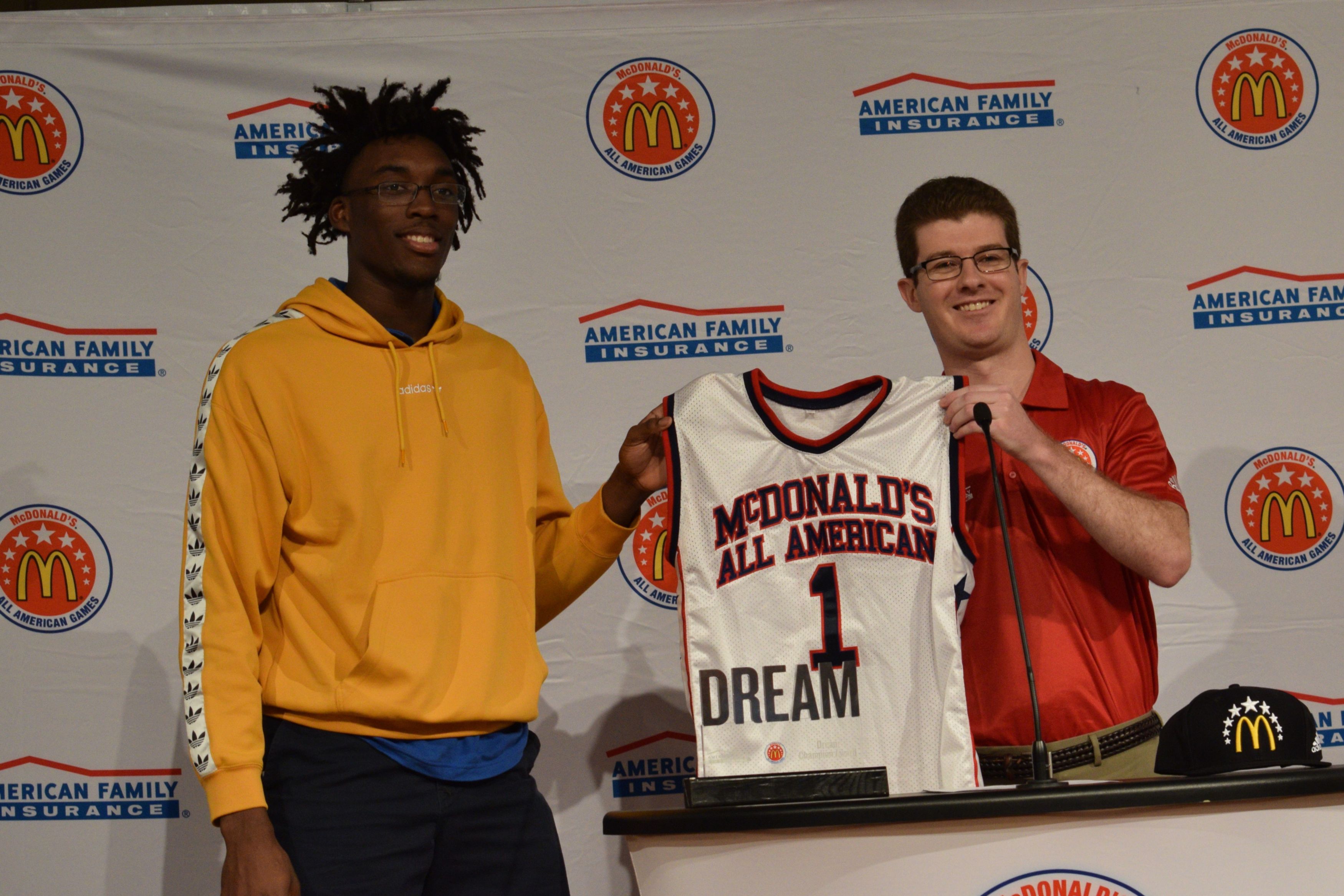 Orlando Christian Prep Art Department
The OCP Art department lead by Mrs. Castro took a group of art students to the Winter Park Sidewalk Chalk Art festival this past weekend. The students worked on their chalk art from 7:30am to 3:00pm on Saturday. This annual event gives students the opportunity to showcase their talents in the art community. We are very proud of our students who represented our school. If you are interested in making a contribution to further expand our art department please contact Mrs. Castro